Your ideas for advertising signs realized by Media Design
The advertising signs are suitable way for presenting the business to the wide audience. They can be illuminated or non-illuminated, directional signs, informational signs or signs for presenting products. This type of advertising has many advantages: excellent visibility, high durability and strength, resistant to the weather conditions, long product life cycle and possibility for outdoor and indoor installation. Sign advertising is often used for full branding.
Brand advertising not only informs the public about the business, but to highlight the brand from the others.  For this reason, the signs are popular tool of advertising that can be applied for shops, restaurants, offices buildings, institutions, hotels, shopping centers.
Save
Sign types manufactured by Media Design
Why to choose Media Design?
Highly specialized team in the design and the production of advertising products is here to find a solution even for the most complex projects. More than 24 years of experience gives us the ability to react quickly and to realize your ideas in the most efficient way. The final result is important – an attractive sign that will advertise your business for years to come. That is why our illuminated and non-illuminated signs have from 3 to 5 years warranty.
Over the years we have created many successful collaborations thanks to the complex services we offer – from the design to the sign maintenance. For us, client's opinion is a determing factor in the realization of the project. You can read out clients' testimonials.
What are the benefits of the signs made by Media Design?
Attractive brand representation
Signs with long life cycle
Solid warranty and post-waranty service
Strict deadlines
Design, manufacture and installation tailored to your specific needs
Pricing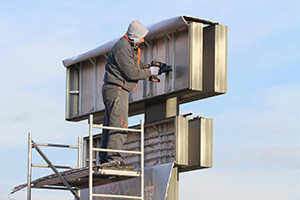 Each sign price is individually determined according to the client's needs. The materials to be used, the type of illumination and the design are taken into consideration when the price is calculated. Once the details are defined, the client receive a price offer.
We know that the signs are key representative for any company, we make sure that every detail is perfectly done. We use materials with guaranteed quality: 3M films, plexiglass, stainless steel, allurapid and LEDs from the leading producers. We offer our clients durable and functional products with a minimum of 2 years warranty.
Illuminated or non-illumnated sign's life continiues long after the warranty expires. That gives our clients an excellent return on their intvetment.
Save
Gallery of Media Design signs