Advertising agency Media Design was established in 1993 by a group of students in recent years in the Technical University with ambitions in advertising and design. Throughout the years, we have gained experience in designing and manufacturing a wide range of advertising products which allows us to realize even the most unusual projects. Thanks to our complex service, we make all advertising projects quickly and on time. For our outdoor and print advertising products, we use high-quality products that meet modern technological standards.
By creating design and advertising that sell and bring success to your business, we have proven our professionalism and the quality of the products and services that we offer. Media Design specialists care about the characteristics of each business with regard to make the most efficient advertising. Our team gains your trust with it's high qualification, motivation and creativity.
Uncompromising quality with up to 5 year warranty, optimal delivery terms and flexible logistics make us the most preferred partner in designing and manufacturing for all types of advertising.
Outdoor advertisement
Media Design specializes in outdoor advertising and sign making. The company designs and manufactures signs, channel letters and all kinds of outdoor advertising at the highest technological standards. We work with aluminum, stainless steel, composite materials and LED illumination. Media Design is 3M Image Graphics authorized manufacturer – leader in the production of self-adhesive films and flexible substrates. You can completely trust our specialists for choosing the most suitable materials as well as for design, the installation,the warranty period and the post-warranty service.
The new technologies in advertising signmaking and the high professionalism of all our employees can guarantee the quality of the products. Advertising agency Media Design grands up to 5-year full warranty for the outdoor advertising, ensuring you peace of mind and confidence in the purchased products. Even the first signs, channel letters and other types of advertising, that we have created in our beginning, have proven to be sustainable and are still on display.
ISO Certificates for manufacturing illuminated adverts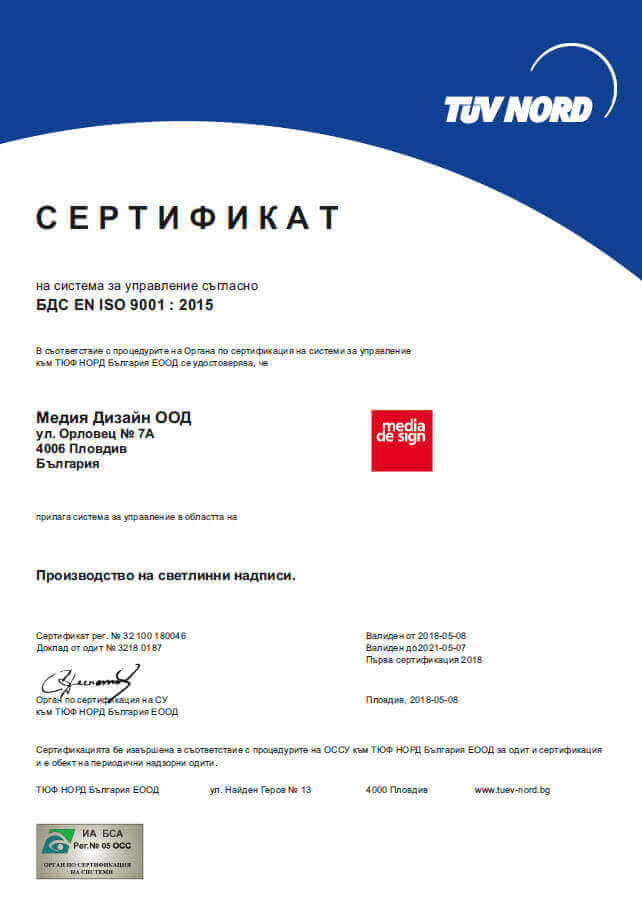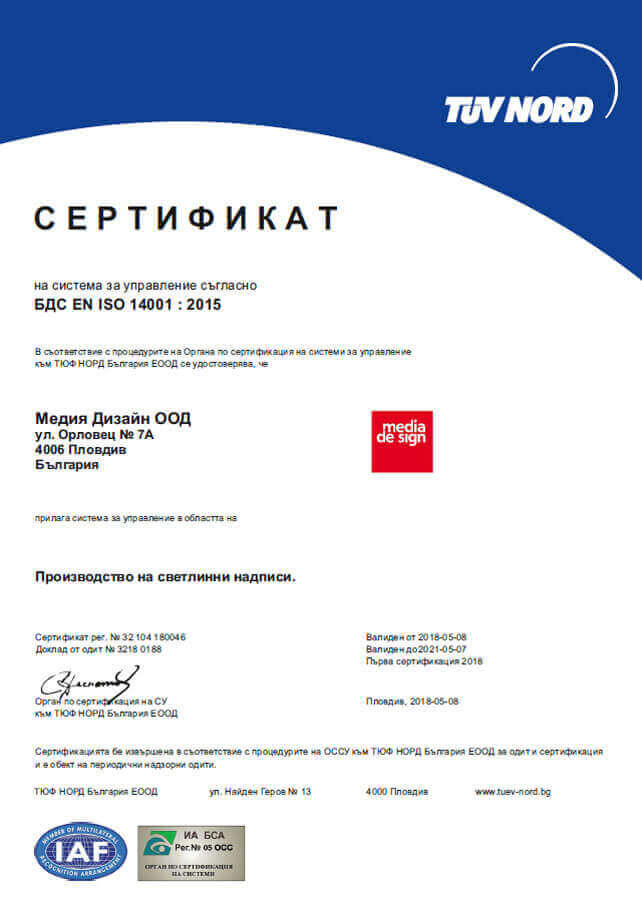 Print advertising
Another major sector of activity of advertising agency and signmaking company Media Design is the design and the printing. We respond to the dynamically growing market and we undertake challenges for non-standard designs. The company does as well projects for more standard or luxurious advertising catalogues, restaurant menus, calendars, invitations, posters, business cards, flyers, brochures, leaflets, stickers and others. We can also satisfy your individual needs for projects like luxurious product packaging, personalized bags with company logo, promoters.
More than 3250 satisfied clients