Do you want an impressive and high-quality hotel advertisements?
Advertising agency Media Design is your partner for creating of exclusive and representative advertising for hotels. We offer optimal solutions for exterior and interior advertising for your hotel based on its specifics, location, distribution, and of course, your requirements. As professionals with 30 years of experience, we have the necessary knowledge and capabilities to create unique, stylish and themed hotel branding. We strive to create advertising signs and channel letters that fit the architectural style of the building and visual communication products that perfectly correspond to the hotel's interior design of the hotel, so as to add luxury, elegance and individuality to the setting.
Which advertising products are appropriate for hotels?
Channel letters for hotels
When branding hotels, one of the first things we create is illuminated or non-illuminated, eye-catching channel letters. We offer a wide selection of channel letter types professionally made with high-quality materials from leading companies in the advertising industry, such as 3M, SloanLED, and G.O.Q. LEDs. The selection depends on your wishes, goals, and budget. When working for international hotel chains, we fully comply with the brand's guidelines and produce advertising letters and products according to the specified standards. Regardless of whether our client is a small family hotel or a huge hotel complex, our goal is to ensure its successful and appropriate presentation.
---
Channel letters of non-ferrous metals
For more demanding customers looking for an exclusive and luxurious presentation of their hotel, we offer the jewels of our business – channel letters made of non-ferrous metals such as copper or brass. They provide an exquisite and elegant appearance that will surely impress and complement the image of a high-class hotel. These letters can be made with an aged or 'vintage' effect, which are known as patina channel letters.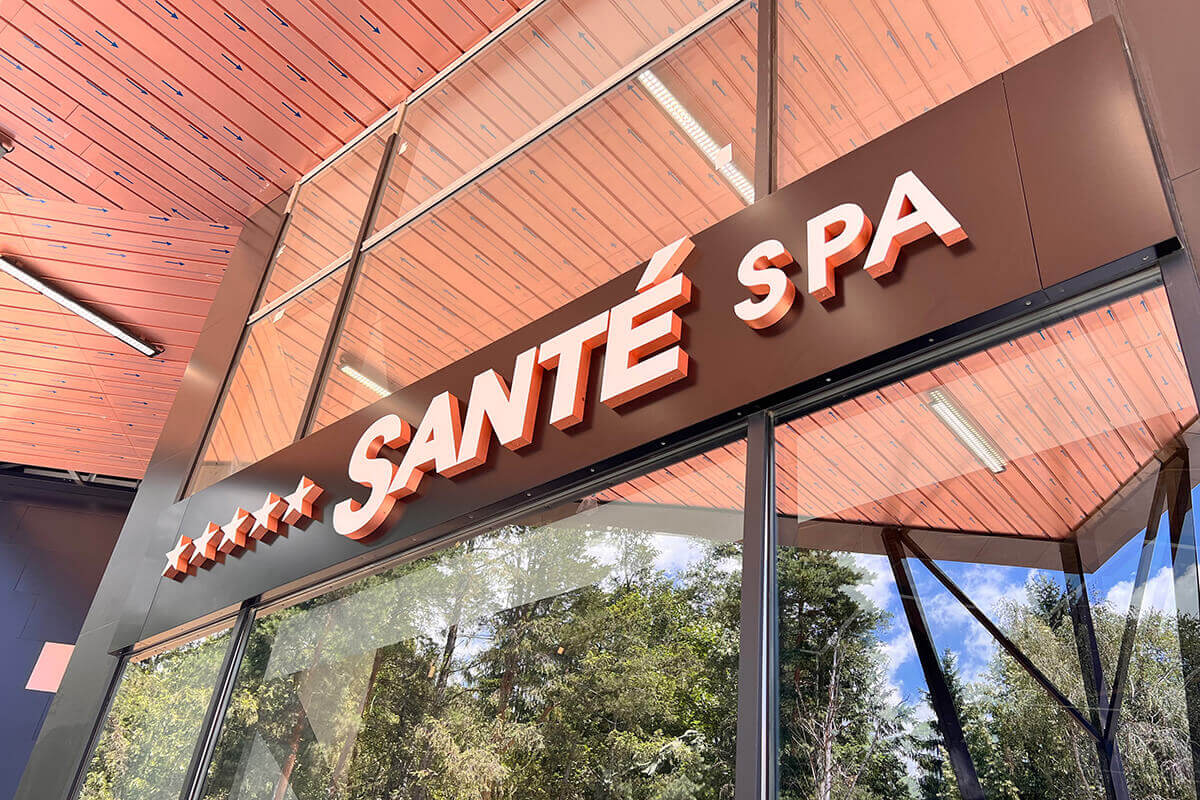 ---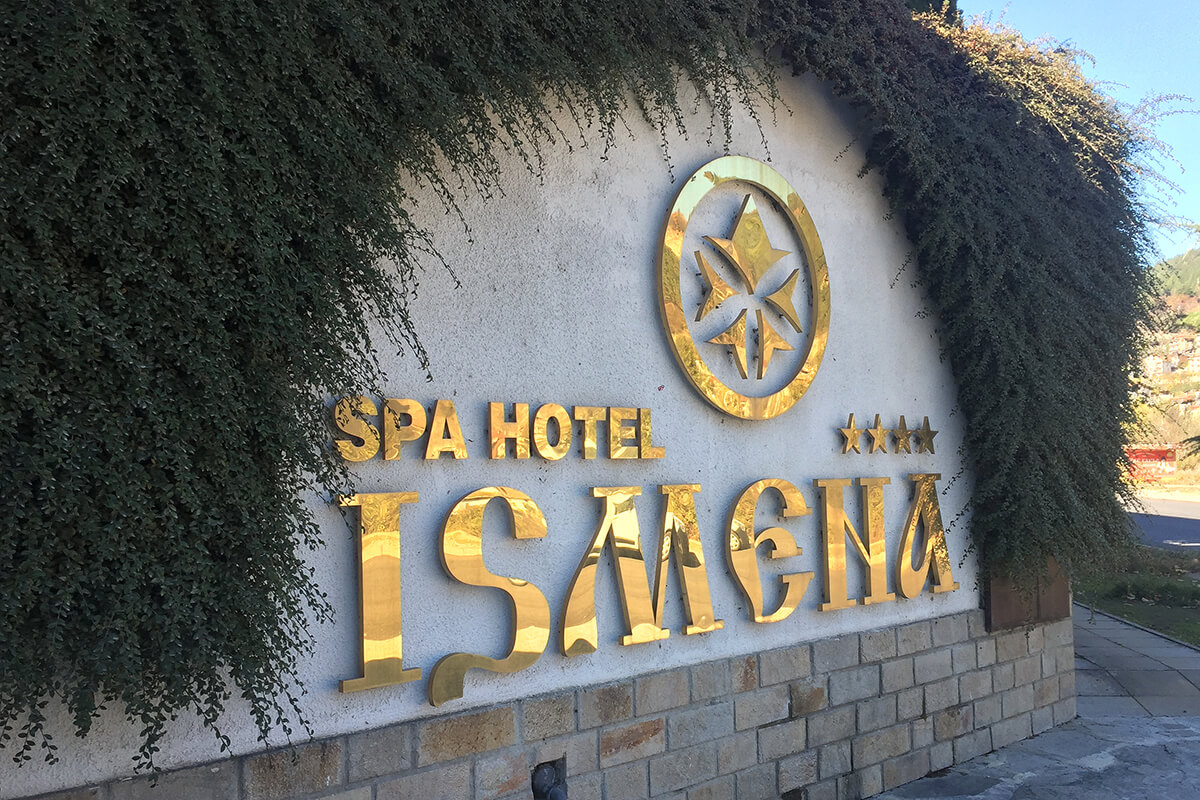 Inox channel letters
Another option for creating a sense of premium quality and sophistication through channel letters is by using inox or stainless steel letters. These letters can be produced in gold or silver metallic with a mirror or brushed steel effect. Upon customer request, the inox letters can also be painted in a desired color to recreate a marketing vision or logo. The attractive appearance of non-ferrous metals and stainless steel channel letters can be further enhanced with LED lighting. We use ambient lighting and the produced channel letters are known as halo letters and backlit letters. By using spacers, the advertising letters are placed at a distance from the wall (base) to obtain the effect of backlighting.
---
Aluminum channel letters, acrylic letters, embossed letters
Other types of channel letters suitable for hotels include aluminum letters, acrylic letters, and embossed letters. One of the most widely used, especially for hotel rooftop advertising, are channel letters with aluminum sides and a plexiglass face, because of their durability and elegant appearance. For lighter duty applications, we offer acrylic channel letters. Embossed letters are used in hotel interiors in combination with bond signs or on their own. They are often used to denote the main hotel areas such as reception, spa center, restaurant, lobby bar, room numbers, and arrows.
Advertising signs for hotels
Outdoor advertising signs are an essential part of any hotel's advertising strategy. These signs can be combined with channel letters to create an eye-catching branding. We offer a variety of sign options suitable for hotels, including acrylic signs, signs with aluminum profiles and a Plexiglas or flexible vinyl face, as well as Etalbond signs. All sign types have high-quality performance and are known for their representative and elegant appearance. Based on your requirements, we can suggest a sign option that reflects the atmosphere and style of your venue.
Aluminum profile signs and Etalbond signs are particularly suitable for outdoor use because of their durability and presentability. These signs can be placed next to entrances or on high facades, or as console signs to direct and guide customers.
---
Textile lightboxes for interior decorations at hotels
Textile signs, also known as textile lightboxes, have become increasingly popular for hotel interiors. These signs can create spectacular illuminated pictures and walls, adding a unique touch to the hotel's decor. The aluminum profiles are fine and elegant, which is a great advantage since they are meant to be viewed up close. We use high-quality LED lighting and fabrics that can perfectly transmit light and be printed in full color with excellent quality. This enables us to create illuminated walls that resemble paintings or photo wallpapers. The final result is stunning and adds to the overall ambiance of the hotel.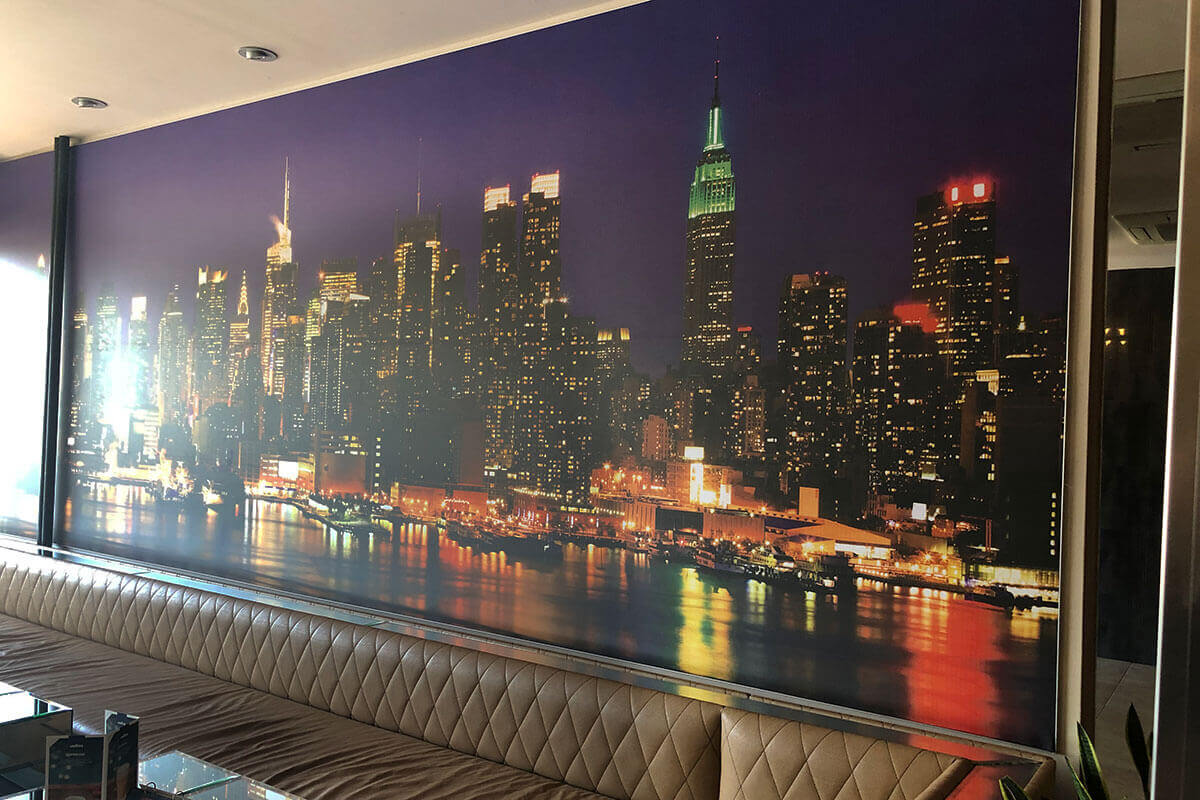 ---
Interior signs for visual communication and safety
Our team will take care of the interior branding of your hotel by producing signs that facilitate visual communication for both staff and guests.
Interior signs with room numbers, floor numbers signs, safety signs, and warning signs like "No smoking" or "Area is under 24 video surveillance" are crucial and constant parts of visual communication in hotels. Evacuation schemes are an important component of any building's signaling equipment, and they must be clear, legible, and understandable to avoid confusion during potential emergencies. We produce these types of signs of long-lasting Plexiglass and film inscriptions to ensure an elegant outlook and durability that fits into different interior styles. Other materials and execution options are also available to suit your needs and preferences.
Etalbond signs with film elements are commonly used for interior applications as information boards or in combination with embossed letters for image advertising or sector marking in the hotel, such as a children's corner, gym, Wi-Fi zone, and more. Plexiglass signs are also suitable for these purposes, depending on your overall branding vision. Additionally, we offer engraved metal plates for hotels that can indicate elevators, floors, room numbers, or serve as information and warning signs.
Hotel totems
It is not widely known that, in addition to standard hotel signs and channel letters, a practical and effective solution is the creation of an advertising totem. This not only indicates the location or direction but also helps to achieve an impressive hotel presentation. There are various options for making totems, such as external layout, materials, sizes, and pedestals.
Media Design advertising agency can execute even more complex and non-standard projects for illuminated and non-illuminated totems for hotels, according to your specific requirements. Advertising totems can be placed inside or outside the hotel to emphasize the brand and help with easy orientation and good visual communication. We do not compromise on quality and take care of every detail to ensure a long-lasting promotional product that is reliable, safe, and sustainable.
Hotel LED illumination
For an attractive view of the hotel, even in the dark, in addition to illuminated advertisements, we also offer the installation of spectacular LED tubes for buildings. We use SloanLED LedStripe®, which is the highest quality LED tubes available on the market, designed to replace traditional neon technology. They are distinguished by their reliability, efficiency, and high resistance to external conditions, designed to add elegance to the exterior of hotel buildings. This presents a great opportunity for accentuating and complementing the renowned hotels. Another significant advantage of using LedStripe® border tubing is the clear distinction of the hotel's location.
Why to choose Media Design Advertising agency
We have experienced professionals, high-quality materials, and a professional workshop, which are the basis of our success. We are not afraid to be innovators in hotel branding and to create products that no one else succeeds in. Our main mission is to recreate the spirit of quality service and high company standards in beautiful and elegant advertising products such as channel letters and signs, advertising totems, interior hotel signs, and designer individual products. All this, in turn, contributes to the comfort of guests.