Inox letters made for restaurants, hotels, offices, business buildings are an excellent solution for image advertising. They are extremely impressive and stylish, attracting the attention of customers. We usually make channel letters of smaller size, because the material is more expensive. Of course, Media Design can perform complex and different size designs for inox letters. This material allows us to produce them even in more unusual forms because of its flexibility. The precise implementation of the inox letters also determines their perfect appearance.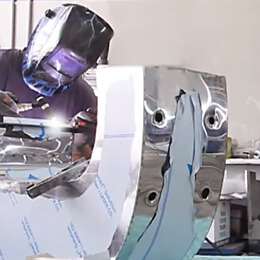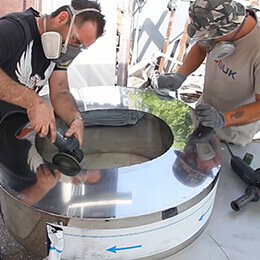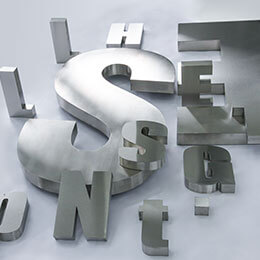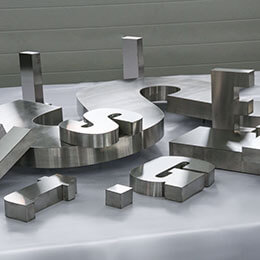 The face of the inox letters is laser-cut from a sheet of stainless steel on a prepared template with the dimensions required for the particular project. If the channel letters are halo lit (reverse), the stainless steel pages we use are not less than 1.5 centimeters. This is done in order not to see the LED modules that are hidden in them. Then we bend the returns on the contour of the face and weld them. If the signage lits, we do not close the letter's back, otherwise we put the back of the inox.
They can be mounted directly on a wall, at a distance from the wall, or on a pedestal, depending on size and weight. Normally, the parameters of the inox letters depend on the mounting location so that we are sure they are firmly standing. We use standoffs when the letters are ahead of the wall.
When the letters are with complex and irregular shape
Channel letters of different sizes and shapes can be made out of inox. The material allows for more elaborate details, which in no way affects the appearance of the letters. They are absolutely sculpted and molded like a template. Because of the higher cost of stainless steel (inox), large channel letters are rarely ordered. Stainless steel letters of this size are also very heavy, so their installation is more challenging.
---
When you need image advertising
The choice of non-illuminated inox (stainless steel) channel letter is among the best when it comes to elegantly executed advertising supporting the reputation of companies. Stainless steel letters – brushed or mirror – are suitable for both outdoor and indoor use. They come in interiors of modern offices and restaurants, as well as as part of the facades of banks or business buildings. They are appealing and emphasize the names of companies and their brands. This is a way to promote and impose on the market.
---
When you need a robust and sustainable signage
Inox letters are resistant to the weather conditions – heat, moisture, cold. Signages made of inox are up to date even after 10-15 years. In practice, inox letters have eternal life, as the material remains unchanged (the stainless steel does not corrode). Channel letters from inox are resistant to pressure and the impact of the wind.
Why to order inox letter?
They are representative
For prestigious brands – for shops, restaurants, offices, are often used inox letters. They testify to prestige and support the good image of companies. They are also a spectacular key element for contemporary modern interiors and unusual architectural design.
Stylish and elegant, inox letters are ideal for eye-catching image signage that attracts clients.
They are stylish
The inox letters are very classy and can fit in any interior or any facade of modern construction. They are not intrusive, but they do not go unnoticed by customers.
They can be executed in color or with different textures – brushed or mirror. Their type is determined by the clients' needs and their requirements.
They are qualitative
We produce the inox letters so that they meet the modern quality requirements. We strive to be perfect, even in the smallest detail, so that finished products have an ideal look and excellent strength.
What is the life of stainless steel letters?
Advertising inox letters are well-known for their high strength and durability thanks to the inox material. It keeps its appearance unchanged for a long time and practically provides you with no maintenance for years.
The initial slightly bigger investment for advertising letters is fully returned by their durability and endurance to any conditions.
What is the price of stainless steel letters?
Usually, the price of these letters is a little higher than the standard. However, the investment is worth it, because they are practically eternal. This type of advertising letter lasts 10-15 that even over 20 years.
---
 Gallery of inox letters: